Lobach Cemetery Headstones, 2007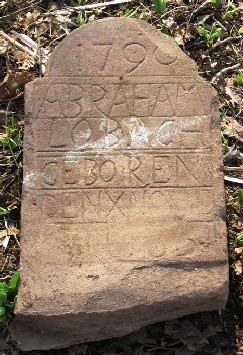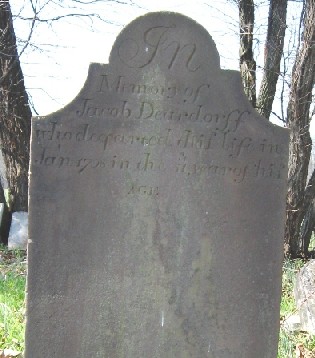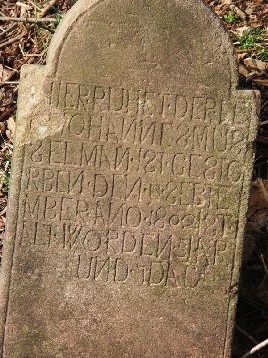 Some of the oldest stones are in German. Abraham Lobach (left), who died in 1790, is the first known burial. The reverse side of his stone is decorated with a combination morning star-tulip design. Johannes Musselman (right) is one of three young brothers who died within two weeks of each other in 1802. Jacob Deardorff's slate stone from 1798 (center) is in English, however, with professional, V-cut lettering.
There are photographs of all the stones. Click on the name to see the image. All photos copyright Anne W. Brown & Nancy Clemmer and may be copied only for personal use. They must carry the attribution to lobachcemetery.org.
Borckholder, Johannes 1730-1810
Deardorff, Isaac ca. 1746-1823
Deardorff, Jacob ca. 1748-1798
Hollinger, Elizabeth 1834-1838
Livingston, Elizabeth 1785-1866
Packer, John Alexander 1834-1835
Raffensperger, Christian 1828-1849
Family Groups:
These stones, recorded in 1934, were not located in 2007:
Bupp, Catherine, Sr. 1757-1838
Bupp, Catherine, Jr. 1782-1855
Hollinger, Hetty 1807-1858
Hollinger, Samuel 1795-1846
Musselman, Peter 1801-1802
P.M.O.M. 1812